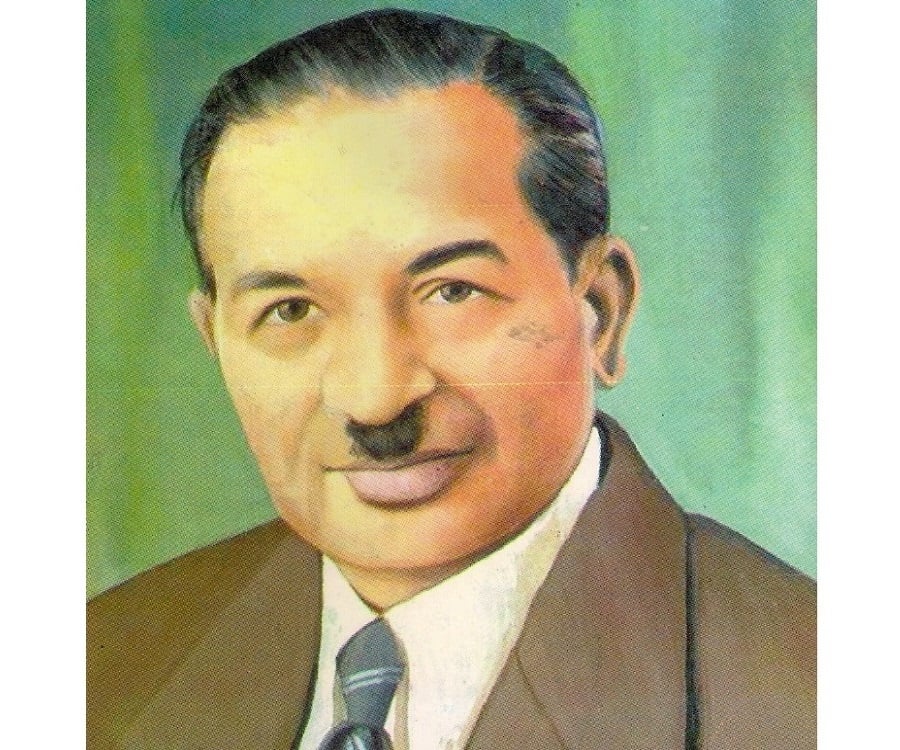 All religions, arts and sciences are branches of the same tree. All these aspirations are directed toward ennobling man's life, lifting it from the sphere of mere physical existence and leading the individual towards freedom.- Albert Einstein
Science and Art though ostensibly belonging to different spheres, overlap in many ways. Both involve ideas, theories, hypotheses, that are tested, for the scientist it is the lab, for the artist it is the studio or his study room. And much like the scientist, the artist too studies various disciplines like history, literature, culture, religion, using the same investigative techniques.  Shanti Swarup Bhatnagar was a bridge between the two worlds, one of the greatest Indian scientists of the modern era, who was an equally good writer. To most Indians, his name would be familiar with CSIR, that he founded as well as the awards given out in his name to aspiring scientists.  Yet not many know that he was also an equally good Urdu poet under the name of Seemab, and composed the Kulgeet for Benaras Hindu University in Sanskrit.  As a scientist, he played a major role in ensuring chemical industry is an important part of Indian economy, something he owed a lot to his teacher, the renowned P.C.Ray.
Shanti Swarup Bhatnagar was born on February 21, 1894 in Bhera, a small town now located in the Punjab province of Pakistan. His father Parameswar Sahai, was a Brahmo, driven by ideology,  and a second master at Anglo-Sanskrit High School in Shahpur district.  With his father passing away when he was just 8 years old, Shanti was bought up by his maternal grandfather, Munshi Pyare Lal, one of the earliest graduates of Rorkee Engineering College. Growing up in his grandfather's rather large home at Sikandra in UP's Bulandshahr district, Shanti spent time reading the books in the large private library he had. He would later pass over his grandfather's entire collection to Lahore University in 1919. He also inherited the passion for engineering and science from his grandfather, especially the instruments, geometry, algebra. His love for literature was more from his mother's side, which had a rich tradition of poets and writers. The most well known was Munshi Hargopal Tufta, who got the title of Mirza from none other than Mirza Ghalib himself.
Shanti's schooling was at the A.V.High School in Sikandarabad, and was quite a brilliant student. His father's friend Lala Raghunath Sahai, persuaded his mother to send him to Lahore, where he was working as the headmaster at Dyal Singh High School.  It was at Lahore that he came into contact with Pandit Shiv Nath Shastry and Abinash Chandra Mazumdar, both of them Brahmos, which in a way influenced his ideology too. Raghunath Sahai, would also be Shanti's father in law later, and played a major role in shaping his thought process and ideals too.
In 1911, he joined the newly established Dyal Singh college in Lahore, where he was an active member of the Theater Society.  Earning a good reputation as an actor, he also wrote a one act play in Urdu called Karamati, with active encouragement, from Ms.Norah Richards, the English literature professor. His interest in literature continued in life, when after the death of his wife, he wrote a collection of Urdu poems in her memory called Lajwanti.  He joined Forman Christian College in 1913 for his BSc degree, where he took up a Honors course in Physics.
Mr. Shanti Swarup was one of the ablest students in that large class of about 100 students; indeed, I am of opinion that in all-round ability he was the ablest. He distinguished himself in every branch of the work of his class—literary, scientific, dramatic, social and he gave the most complete satisfaction to the Professor by the excellence of his behavior. He is a young man of more than usual ability and I feel sure that if he is given opportunities of developing his talent in some great European or American Centre of Scientific research he will do some remarkable work in science and will thus be in a position to render high service to his country- Welinker, Principal of Dyal Singh College.
After graduation he worked for some time as a Demonstrator in the Physics and Chemistry department of Forman Christian College, and he would later complete his MSc in Chemistry from the same college in 1919.  The Dyal Singh College trust granted him a scholarship to pursue his studies abroad, and he left for London.  He studied at the University College of London, under Professor F.G.Doonan, and was given the degree in 1921.  His main area of study in London was study of adhesion and cohesion in emulsions and his thesis was entitled 'Solubilities of bi- and trivalent salts of higher fatty acids in oils and their effect on surface tension of oils.'
Returning to India, Shanti joined Benares Hindu University as Professor of Chemistry,  and worked there for three years.  During his stint at BHU, he created an active school of physical chemistry research, penned the University's Kulgeet in Sanskrit. From BHU he once again moved to Lahore, where he was appointed as Professor of Physical Chemistry and Director of University Chemical Laboratories.  He worked for 16 years at Punjab University, Lahore till 1940, where he produced some of his best work.  While his areas were primarily colloidal chemistry and magneto chemistry,  he also did a lot of work in applied and industrial chemistry.  In 1928 he invented the Bhatnagar-Mathur Magnetic Interference Balance along with K.N.Mathur, a very sensitive instrument for measuring magnetic properties.
He also did considerable work in industrial and applied chemistry, one of his first projects was to convert bagasse( sugarcane peelings) into cattle fodder, which he did for Ganga Ram, one of the prominent Punjabi industrialists.  Another achievement of his was for Attock Oil Company at Rawalpindi, where they had an issue while drilling for oil. The mud used for their drilling operation would come in contact with saline water and get further solidified, making further work impossible. Shanti added an Indian gum, which lowered the viscosity of mud suspension, and increased it's stability too against the electrolytes flocculating action.  Ms. Steel Brothers the parent company of Attock Oil, was so pleased, with his solution,  that they offered him a grant of Rs 1.5 lakhs for research on any work related to petroleum.
Bhatnagar used the grant to establish a Department of Petroleum Research at the University,  and this later carried out many studies on petroleum and it's products.  Some of them included deodorization of waxes, utilization of waste products in vegetable oil. The company later increased the grant amount and extended the period to ten years, impressed by the work that was going on.  He never used any of the grants he receieved for his personal purposes, and utilized it only for strenghtening the research facilities at University.  Along with K.N.Mathur he wrote a book "Physical Principles and Applications of Magneto chemistry" which is regarded as a standard work on the subject. This is what the great chemist P.C.Ray had to say
On turning over the pages of Nature my eyes chanced upon an advertisement of Macmillan's in which I find your book at last advertised. That the book is of a high standard is indicated by the most excellent review in Current Science by Professor Stoner, who is competent to judge. As far as I know Meghnad's is the only text book in physical sciences which has been adopted by foreign universities; and it gladdens my heart that another work in physical science is likely to occupy a similar place. My days are practically numbered; and my great consolation is that you, in chemistry, are raising the reputation, abroad, of Indian workers
In 1933, Sir Richard Gregory, editor of Nature, while visiting the universities in India,  drew attention to lack of an appropriate central research organization for development of natural resources and new industries.   It was not just him, even others like Sir C.V.Raman,  Dr.J.C.Ghosh, had proposed for an Advisory Board for Scientific Research, on the lines of DSIR in Britian.  Indian scientists initiated schemes to launch National Institute of Sciences, and provincial Governments of Bihar, Odisha, Madras, too backed this demand.  The then Secretary of State for India, Sir Samuel Hoare, advised the Viceroy Lord Willingdon, to support the idea.  However Willingdon rejected it saying, it was not ncessary. In 1934, the Govt however made a small concession to create an Indian Intelligence and Research Bureau, with a very limited budget. This meant the institute could only do testing and quality control, but not undertake any industrial activity.
When the Bureau was proposed to be abolished during WWII,  Sir Ramaswamy Mudaliar, proposed the creation of a Board of Scientific and Industrial Research with more resources and wider objectives. Thanks to Mudaliar's persistent efforts, the Board was created on April 1, 1940 for a period of two years and Shanti Swarup Bhatnagar was asked to take charge as the first Director, while Mudaliar became the first Chairman.  Allocated an annual budget of Rs 50,000, placed under Commerce Department, by the end of 1940, BSIR had about 80 researchers engaged, of whom around 20 were directly employed.  By 1942, the Institution came up with a number of processes, some of which included purification of Baluchistan sulphur, development of vegetable oil blends as fuel,  development of plastic packing cases for army boots and uniforms.  Bhatnagar persuaded the Government in 1941, to set up an Industrial Research Utilization Committee( IRUC) to transform research findings into action. The Central Assembly in Delhi accepted the reccomendations to constitute an Industrial Research Fund for five years on November, 1941.  And the efforts of Mudaliar and Bhatnagar came to fruit when the Council of Scientific and Industrial Research was founded on September 28, 1942 as an Autonomous body. In 1943, CSIR Governing body approved proposal to set up 5 national laboratories-the National Chemical Laboratory, the National Physical Laboratory, the Fuel Research Station, and the Glass and Ceramics Research Institute. CSIR got a grant of Rs 10 million to establish these laboratories, while Tata Group donated Rs 2 million for the Chemical, Mettalurgical labs.
Post independence, he played a major role along with Homi Bhabha, Vikram Sarabhai, P.C. Mahalanobis to build up the science and technology infrastructure, as well as policies. As Director General of CSIR,  Bhatnagar, also established the Central Food Technology Processing Institute at Mysore, National Mettalurgical Lab at Jamshedpur, Central Fuel Institute at Dhanbad. He also mentored other scientists like Syamdas Chatterjee, Asutosh Mukherjee, Shantilal Banereej at Kolkata, apart from being the Secretary of Ministry of Education. He played a major role in drafting the Scientifc Manpower Comittee Report of 1948, the first ever systematic assesment of the scientific manpower needs of India.  He was also instrumental in establishing the National Research Development Corporation( NDRC), and negotiated with oil companies for setting up refineries in different parts of the country. On January 1, 1955 he passed away at just 60, but not before leaving a very rich legacy in terms of establishing the scientific infrastructure needed for the development of the country.
Source: http://vigyanprasar.gov.in/bhatnagar-shanti-swarup/