Pandya Nadu or the southern most part of Tamil Nadu, basically the region covering the districts of Madurai, Theni, Sivaganga,  Ramanthapuram, Virudhanagar, Tirunelveli, Thoothukudi and Kanyakumari.  A region of rich culture, heritage and history.  A land of magnificient temples,  beautiful coastlines, breathtaking natural vistas.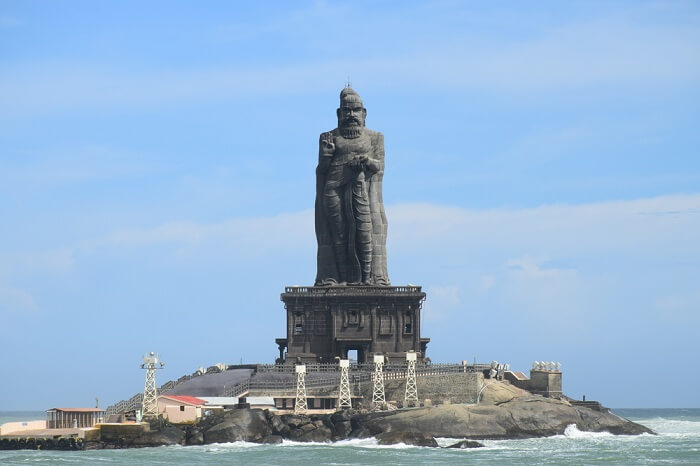 This land of the Pandyas, has also produced some of the greatest freedom fighters and revolutionaries too.  The legendary Veera Pandya Kattabomman,  the great freedom fighter who had the vision to set up a shipping company, V.O.Chidambaram Pillai , the firebrand revolutionary poet Subramanya Bharati and Pasumpon Muthuramalinga Thevar, one of Netaji's closest associates hailed from this region. Not as well known as these legends, but equally worthy of respect, was Subramanya Siva, a firebrand revolutionary, and a close associate of V.O.C. Pillai.  In fact along with Pillai and Subramanya Bharati, he was one of the key representatives of the Indian National Congress in Tamil Nadu.  An excellent writer who reached out to the masses with his speeches, poems and articles, motivating them to fight for freedom. He was the author of the journal Jnanabhanu and the books Ramanuja Vijayam and Madhwa Vijayam, on the two great Vaishnava saints.
Siva was born in Batlagundu, a small town in Dindigul district, more well known as the gateway to Kodaikanal, located right at the foothills, to Rajam Iyer and Nagalakshmi on Oct 4, 1884.  He studied in Madurai till High School, and later did his studies in Coimbatore.  In 1906 at  Thiruvananthapuram, he was attracted to the cause of India's freedom, after listening to the fiery speeches by Arya Samaj leaders there. And soon he was organizing protest rallies, giving speeches in support of India's freedom. However he was asked to leave Travancore State, which was then under British control.
They could not however prevent the power of Siva's speeches in influencing the youth against British. He had a close friendship with VOC Pillai and Bharatiyar, and was quite proficient in Tamil, English and Sanskrit. Like most other freedom fighters then, he considered Tilak his political guru and was inspired by the works of Swami Vivekananda and Ramakrishna Paramahansa.  Along with VOC he organized many meetings in Tirunelveli against British exploitation and the importance of freedom.  And soon the British saw him as a major threat,  and in 1904, he became the first political prisoner in Madras Province to be imprisoned for sedition. Given a 10 year sentence , after a trial, it was commuted to a 6 year RI in prison.  However the jail term was a misearable one for him, yoked to the oil press like cattle, he was made to pull it in the hot sun, clean animal hides and skins.  The harsh treatment, unhealthy conditions affected his health and by the time he came out in 1912, he was a totally broken man. His wife Meenakshi died in 1915, leaving him totally alone and distraught. He plunged into the freedom struggle now, also mobilizing workers for better pay and working conditions. He started a magazine called Indian Desantheri in 1919, and took part in the 1920 Non Cooperation movement under Lala Lajpat Rai. He was again put in prison in 1921 and later 1922.
The long prison terms, the harsh treatment and unhygienic conditions made him contract leprosy, a deadly and contagious disease for those times. Though the British forbid him to use public transport, he travelled on foot from place to place, spreading the message of freedom.  He founded an Ashram at Paparapatti in Dharmapuri district on January 23, 1923, however his health deteriorated further, and he eventually passed away on July 23, 1925.  The office of the Dindigul district collector has been named as Thiagi Subramanya Siva Maaligai after him, as also the Batalagundu bus stand.